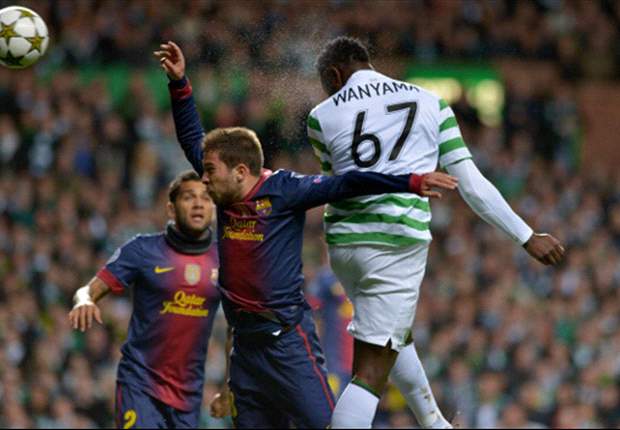 Every country has a domestic league, generally speaking anyway. That's the way of the footballing world right? Clubs from a single nation compete in seasons of varying times and lengths, only meeting teams of other nations if they are part of the privileged few that qualify for whatever prestigious continental competitions may be on offer. An interesting question is why? Why have such enclosed leagues? With the world so globalised in so many ways, why is it that playing teams from neighbouring countries is not a weekly occurrence. It happens in American sports, with Canadian and Mexican cities often having franchises in 'soccer' and ice hockey, and even talk of a London based NFL side playing out of Wembley.
When professional association football was still a fledgling sport, it made sense to limit competition to a domestic or even regional remit; with little money in the game in its early stages, things such as travelling costs were real issues. However, these basic, practical costs are no longer significant issues within the game; Europe's top leagues are now worth billions of pounds, and in England, even clubs outside of the Premier League attend international friendlies in preseason. In a world connected by train tracks and budget air travel, the cost of travelling to fixtures really isn't a significant reason for clubs to not compete beyond their immediate domestic surroundings.
In the past couple of years, there has been some talk of the creation of a European Super League, featuring only the best sides in Europe. The logic behind this suggestion, apart from the obvious financial rewards, is that competition breeds quality, so unless the world's best clubs are meeting on a regular basis, they will stagnate. Fundamentally, this logic is true, competition does increase quality, but the proposal of a European Super League would only further isolate Europe's top clubs from the rest. The desire for a European Super League has more to do with undermining UEFA's power, and the huge television revenues that the Champions League garners, than forwarding football. Florentino Pérez has been a vocal advocate for a European Super Cup, being openly critical of the Champions League for what he perceives as too many minnows in the completion, preventing the big teams from meeting on a regular basis: "we have to agree a new European Super League which guarantees that the best always play the best – something that does not happen in the Champions League."
It is a reasonable argument, in the past 15 editions; the Champions League has been dominated by a select number of clubs Real Madrid, A.C. Milan, Manchester United, Bayern Munich and Barcelona have divided 11 of the 15 trophies between them. Some of the smaller countries represented rarely even make it to the group stages, let alone trouble any of the tournament's perennial favourites. Even traditionally strong footballing nations such as Holland and France no longer interrupt the grasp that the Spanish, English, Italian and German giants have on the competition, it has been a little under 20 years since Ajax last won the a European Cup and even longer since Marseille won the trophy in somewhat controversial and acrimonious circumstances. Only Mourinho's Porto have upset the status quo in recent years, long gone are the times when the likes of Steaua București, Hamburg, Nottingham Forrest, Red Star Belgrade and Celtic, were challenging for, and winning Europe's top prize.
However, a European Super League would only exasperate this gap between the best and the rest. Surely much more desirable would be a more level playing field? More clubs competing at a higher standard, all challenging for honours is certainly a more appetising prospect than an isolated league of stagnating elites, and would certainly be better for football as a sport. The answer to this could well lie in an increase of multi-nation leagues. Particularly with smaller countries that can boast only one or two clubs of any real size, it makes sense to consolidate leagues with similar neighbouring countries. Such consolidations would breed greater competition, which on its own leads to an increase in overall quality, but is also likely to lead to more T.V money, and a more popular league. Players are more likely to sign for, and may be less tempted to leave clubs which play in a more competitive, more popular and ultimately wealthier league.
These are not wild, unsubstantiated assertions either; there is evidence that supports the claim that a multi-nation league can improve overall quality. In a previous article, this blog took a look at the great Yugoslavian side of the 1980's and early 1990's. Yugoslavia had wonderful team heading into the 1992 Euros, and could have gone on to become one of the world's greatest sides but was prematurely torn apart through the horrific wars that erupted as Yugoslavia tore itself apart. One reason why Yugoslavia had such a fantastic team was that they were able to call upon the footballing talents of Serbia, Croatia, Macedonia, Bosnia-Herzegovina, Slovenia and Montenegro. However, this is not the sole reason; another huge contributory factor was the strength of the Yugoslav First League.
The last six league titles in Serbia and Croatia have been won by FK Partizan and Dinamo Zagreb respectively, Red Star Belgrade and Hadjuk Split the runners up more times than not. These duopolies are not conducive to breeding quality. What the Yugoslav First League did was not only bring the Belgrade and Zagreb giants together, but also Olimpija Ljubljana of Slovenia, the Macedonian club Vardar, and Bosnia-Herzegovina's Sarajevo sides. By having a multi-nation league, these small, bordering countries with only one or two clubs challenging for titles, to a flourishing competitive league with six to eight teams battling it out for the championship. The facts speak for themselves; Yugoslavian teams participated in four European finals prior to the breakup of Yugoslavia in 1992, including a victory for Red Star in 1991, since the league splintered, clubs from none of the successor countries have had any real impact on European competition.
Another successful multi-nation league in recent years has been the Soviet Top League. Whilst certain Russian and Ukrainian clubs have continued to be competitive in Europe, many other clubs have settled into a period of sustained decline. This is most evident among the 'Dynamo's', with Dinamo Tbilisi a prime example. Labelled the 'Great Team' during the 1970s and '80's, the Georgian clubs have not repeated any of the European success they once experienced since the dissolution of the Soviet Union. It is important to clarify at this point that this article is by no means endorsing the Soviet and Yugoslavian regimes; the way in which these clubs were brought together is deplorable. Atrocities occurred under these regimes, and particularly in Yugoslavia, football rivalries were aggravated by racial tensions, with violence on several occasions spilling onto the pitch. However, although the circumstances in which these leagues were formed is regretful, what is hard to deny is that these leagues made for stronger clubs, higher quality players, and greater competition, both in Europe and domestically.
It is doubtful that football is ever likely to see a reformation of the Yugoslav or Soviet collective leagues; there is too much water under the bridge, too deep history of tragedy. However, it does make sense for other countries to replicate the system used, albeit voluntarily. Poland and the Ukraine have proved that they can collaborate during the 2012 Euros; however, more obvious examples of nations that may benefit from partnering in collective leagues would be Holland and Belgium. Both have excellent national sides, but relatively poor domestic leagues, with clubs from neither league challenging on the European stage. The Scandinavian countries are another group for which a collective league could be both beneficial and practical. There are practical issues involved with multi-nation leagues. A lot of concern over any such proposal revolves around Champions League places, but fewer leagues need not result in fewer Champions League places, at least not at first. If for example Norway, Sweden, Denmark and Iceland form a collective league, and each previously had one Champions League place each, then the collective Scandinavian league would have four Champions League places, at least until the league is established.
The other main practical issue is promotion and relegation, if nations are to join in a collective league; they will want fair representation in that league, not for it to become lopsided. One solution is an enclosed league, but that undermines the point of creating competition. Another solution would be to have several tiers of collected leagues, but this would turn practical issues such as travelling costs become real problems for smaller teams. Perhaps the best resolution would to have a quota of teams from each country, which always remains the same. If from the theoretical Scandinavian, there are four relegation places, whatever teams are relegated, drop down into the leagues of their respective countries. So if two Danish clubs, one Icelandic club and one Norwegian club occupy the theoretical Scandinavian League's relegation spot, they would drop down into separate single nation second tier leagues, with the same amount of teams promoted. In this way, representation of each country remains fair, whilst maintaining the competition brought through promotion and relegation.
Interestingly, at home in England could be where we see this concept of multi-nation, collective leagues put into action. Welsh sides Swansea and Cardiff have been a part of the English football system for a long time, and are now flourishing in the Premier League. Furthermore, one of the longest raging debates in British football has been over suggestions that Celtic and Rangers join the English Premier League. The arguments for and against this are multiple and complicated, but highly simplified, the debate seems to surround on the impact it would have on Scottish football, and the impact it would have on the clubs themselves. Given recent performances, it is perhaps easy to forget that not so long ago, Scotland were good, very good. Souness, Hansen, Dalglish and many more, all excellent players, so what happened? Why is Scottish football at an all-time low? Well, it is no secret that the Scottish Premiership is a forgone conclusion before it even starts; following Rangers administration and relegation, there is no one left to challenge Celtic for the title. It is a stale league, which as such receives relatively low television income, and has seen Scotland decline as a European power; gone are the days of Sir Alex Ferguson's Aberdeen upsetting the big boys.
One of the side effects of the complete inequality of the Scottish Premiership has been clubs spending beyond their means to bring in mediocre foreign players in a desperate attempt to rival Celtic, affecting the development of young Scottish talent. There is a strong argument to be made that Celtic, and perhaps in a few years Rangers, joining the English Premier League would be beneficial for Scottish football. Without Celtic in the picture, the playing field would be levelled, clubs would no longer have to spend beyond their means, restrictions could be placed on foreign players, and the result could be a much more competitive league, where young Scottish players can enjoy plenty of first team football and develop their game. The league would eventually grow in quality, with significant future benefit. The major concern surrounding the departure of Celtic and the effect it could have on Scottish football is financial. Celtic have passionate fans, regularly packing out the 60,000 capacity Celtic Park, and bringing significant away support. As well as ticket sales, Celtic and Rangers rake in the majority of T.V money for Scotland, the withdrawal of these funds could be critical. However, there seems to be a fairly obvious solution. Relegated Premier League clubs are set to begin £60 million in parachute payments over four years, and Championship clubs not receiving these payments, receive a yearly solidarity payment of £2.3 million. The obvious solution to recompensing Scottish football for the loss of Celtic, Rangers, and the corresponding financial loss for the Scottish FA would be some form of solidarity payment, to ensure that Scottish football survives the transition.
In terms of Celtic the club, the positives of joining the Premier League would surely outweigh the negatives. Celtic have not won a European Cup in 1967, and their greatest achievement in recent years, has been finishing as runners up in the 2003 UEFA Cup, a decade ago. Celtic have been impressing in the Champions League, most famously matching up against Lionel Messi's Barcelona last year. However, what Celtic currently face is the prospect of having to rebuild their team every season, the stars of last season's impressive campaign Wanyama and Hooper both left Glasgow in the summer, not for the biggest sides in Europe, but two fairly medium sized Premier League clubs, Southampton and Norwich. Wanyama and Hooper did not leave for bigger clubs, but for a bigger league; Celtic moving to the Premier League would resolve this problem. Celtic's huge support, boosted by the increased ticket prices that can be charged in the Premier League, as well as the astronomical television revenue on offer would quickly see Celtic able to compete financially with even the biggest in the business. The main issue for Celtic fans would likely be missing out on the Champions League. Competition for Champions League places is at an all-time high in the Premier League this season, and if Celtic were to join the Premier League, there would undoubtedly be a period of transition. However, after a period of adjustment, with their pick of Scottish talent, avid, sizeable support, and the increased financial clout the Premier League would bring, competing for those top four spots would be only a matter of time for Celtic.
In practical terms, adjustments would obviously have to be made to the structure of both nations' leagues. However, the timing could be right to make these changes. With the relegation of Rangers, Scottish football has already made changes to its league system recently; there is no firmly established system, better to adjust now, than years down the road. In terms of English football, the timing could also be right. Greg Dyke has recently taken over as the new Chairman of The Football Association and has made noises about change. Choosing to ignore many of England's more systematic problems, Dyke has focused on the number of foreign players in the English game, with talk of a minimum quota of English, or even English under-21 players being bandied about; the introduction of Celtic to the Premier League could be the opportunity Dyke and The Football Association need to implement new regulations. With Rangers romping along in the Scottish League One, a fairly simple and practical way of bringing these to Scottish giants into the English game could be to expand the Premier League to 22 teams, one of these being Celtic, and the other a one off additional promoted side from the Championship. This could then see Rangers join the Championship, with England's second tier remaining at 24 clubs.
These proposals are obviously radical, and very preliminary, but with the gap between Europe's top clubs and all the rest ever increasing, it is obvious that something needs to be done to keep football the joyfully competitive and unpredictable sport we all love.